Graduate students won the 110th Ministry of Education's "Information Security Literacy Real Four-Frame Comic Contest"_College Group Silver Award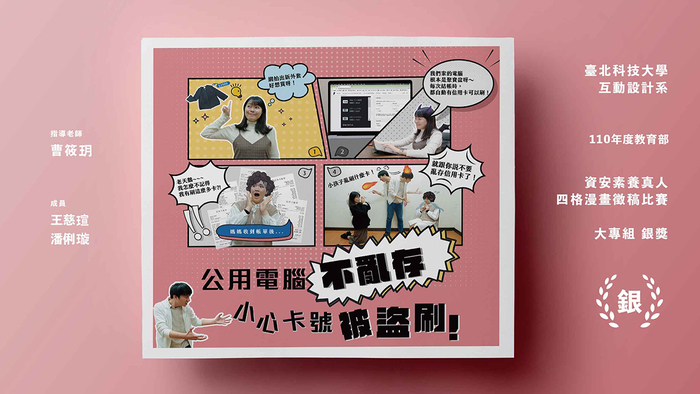 Congratulations! Rimaster students won the 110th Ministry of Education's "Information Security Literacy Real Four-Frame Comic Contest"_College Group Silver Award
Competition Name: "Information Security Literacy Real Four-Frame Comic Contest"
Work title: Keep the public computer and keep it safe, be careful that the card number is stolen!
Design Team: Pan Lixuan, Wang Cixuan
Instructor: Saiau-Yue Tsau
Work description: The convenience of information also brings many hidden worries. This work highlights the important contemporary information security literacy with exaggerated cartoon plots, reminding viewers to use public or shared Do not store important personal information (such as credit card numbers) on the computer, hoping to alert the viewers through the plot of the comic.
Link:Official web