Taipei Tech. Students has won multiple award in SIGGRAPH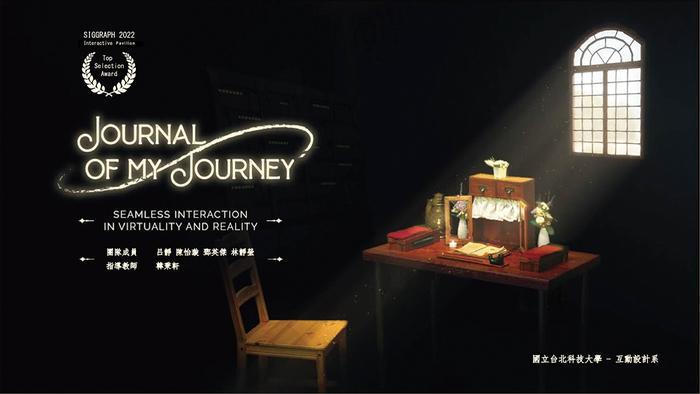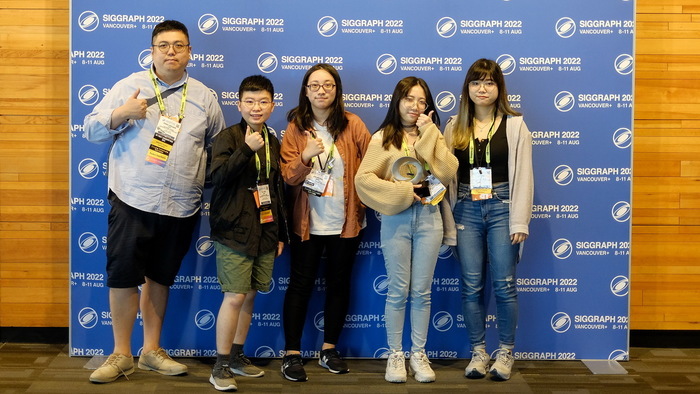 <Taipei Tech. teachers and students cooperated with "Yuan Journey: Imprint" SIGGRAPH to win honors>
The only winner in Taiwan! The teachers and students of the Department of Interactive Design of Taipei Tech developed multi-sensory feedback works "Journal of My Journey" and "Waving Blanket", which were respectively shortlisted for the "Immersive Experience Zone" and "Immersive Experience Zone" of the 2022 ACM SIGGRAPH Computer Animation Exhibition. In the "New Technology Zone", "Yuan Journey: Imprint" won the Top Selection Award in the "Immersive Experience Zone", which is called the light of Taiwan. SIGGRAPH Computer Animation Exhibition is an international benchmark exhibition in the field of digital media and interactive technology. Since 1974, it has gradually developed into a long-established exchange and performance platform. This year, held in Vancouver, Canada, attracted thousands of people from the media industry around the world. Share forward-looking research, practical insights and innovative works.

To catch up with the topic of "multiverse", Deng Yingjie, Lu Jing, Chen Yixuan, Lin Jingying, Zhou Yuzhi, and Assistant Professor Han, Ping-Hsuan, students of the Department of Interaction Design of Taipei Tech, jointly designed "Yuan Journey: Imprint", using digital manufacturing and multi-sensory feedback to create virtual and real Integrated interactive experience. Han, Ping-Hsuan pointed out: "The concept of multiverse has always existed, but very few people have made this experience." The team used space trackers, laser cutting machines and VR headsets to synchronously reflect and record the content of the user experience. The decisions and influences made by the space are fed back to the real world and leave traces, which become the imprints of the virtual world and the real world, reflecting the multiple time and space they want to describe.

Lv Jing, an overseas Chinese student from Hong Kong, said that in the past, his works were mainly graphic or product categories. He had never done a VR installation in college for four years. This is the first time to challenge VR. Present the best experience? More detailed thinking is required. The final result is to go abroad to participate in the exhibition to receive the award, and to overcome the test of different voltages in Canada and Taiwan. I have to thank many people along the way to achieve today. Another work "Wave Blanket" was jointly created by students Chen Yuyan, Wu Wenjun, Pan Weting, Jiang Jinrong, Xu Huiwen and assistant professor Han, Ping-Hsuan. It used the flow distribution of water and air in the water pipe in the blanket to simulate gravity, pressure sense, weight displacement, The four tactile sensory feedbacks of vibration sense, combined with the visual, auditory and olfactory experience of VR helmet and water mist aroma machine, help users experience various waterscapes, integrate into nature, and heal their body and mind.
Student Wu Wenjun said: "We found that water not only changes in temperature and heat, but also uses water pipes to pour water and air. If we change the structure, we can integrate multiple tactile feedback into the same device. No one has ever done this before, so I have a special sense of achievement. For this purpose, they studied fluid mechanics, mastered the interaction between the entry frequency of water and air and the structure of water pipes, and also developed scenes and colors that are more suitable for relaxation. The vibrations of the wave blanket, "similar to a spa, but our device doesn't wet the body."

Han, Ping-Hsuan, who won the award in collaboration with students, is an assistant professor in the Department of Interactive Design of Taipei Tech. He mainly studies human-computer interaction, virtual reality, extended reality, and multi-sensory feedback technology. He is also deeply interested in creative engineering education and immersive storytelling. His interactive works have been shortlisted and exhibited at ACM SIGGRAPH and SIGGRAPH ASIA for many times, and won Laval Virtual Award, Best VR/AR Technology 3rd Award, Best Online Demo Award, etc.
<Introduction to the winning students' works>
Title: Journal of My Journey (Top Selection Award in the Immersive Pavilion)
Participating students: Lu Jing, Chen Yixuan, Deng Yingjie, Lin Jingying
Description of the work: A diary, a story to be revealed, whether it is fact or fantasy. Travel between the virtual and the real, and enjoy a new multi-sensory experience that combines touch, smell, vision and hearing, so that you can affect the reality in the immersed virtual world.
Title: Waving Blanket: Dynamic Liquid Distribution for Multiple Tactile Feedback using Rewirable Piping System (Selected by SIGGRAPH 2022 Emerging Technologies)
Participating students: Wu Wenjun (senior), Pan Yuting (senior), Jiang Jinrong (senior), Xu Huiwen (senior), Chen Yuyan (senior second)
Description of the work: The wave blanket is an immersive multi-sensory feedback system that does not wet the body, can be put on and taken off freely, and can be used for physical and mental relaxation. The virtual visual screen combines various sensory feedbacks such as touch, hearing, smell, etc., users can feel the water flow, enjoy the beautiful scenery, listen to the sound of the water, and enjoy the fragrant and refreshing forest scene, surrounded by flowers and plants, fish swimming in the water, and fireflies flashing in the distance The rays of light, as if in a paradise, to relax the body and mind. The motor and air valve are used to control the frequency of air and fluid entering and exiting the tube, so that the bubbles hit the tube and slosh. With different water pipe structures and water inlet frequency control, it can achieve various tactile feedbacks such as vibration, weight, weight transfer, pressure, etc., so that users can have a richer multi-sensory relaxation experience, which can be used in relaxation, sleep aid, and leisure activities. .
Title: GravityPack: Exploring a Wearable Gravity Display for Immersive Interaction Using Liquid-based System (Students Research Competition 1st)
Participating students: Chen Yuyan, Lu Yijie
Description of work: Past work has done several haptic feedbacks to simulate the touch experience of virtual objects. However, feedback on object weight is rarely explored. This paper introduces the GravityPack, a wearable gravity-feedback device that uses a liquid-based system of pumps, pipes, valves, tanks, and water packs to simulate grasping and releasing virtual objects in a virtual world. The system offers a wide weight range from 110g to 1.8kg in 40 seconds. In addition, we designed and studied the visual feedback of weight conversion on liquid transfer delay time to understand the feasibility of visualization through user studies. As design considerations and implementation are revealed, the paper also demonstrates the potential use of liquid-based systems and the possibility of their visualization techniques to simulate the sensation of weight.